How I Met TB Joshua – Wife Shares Interesting Experience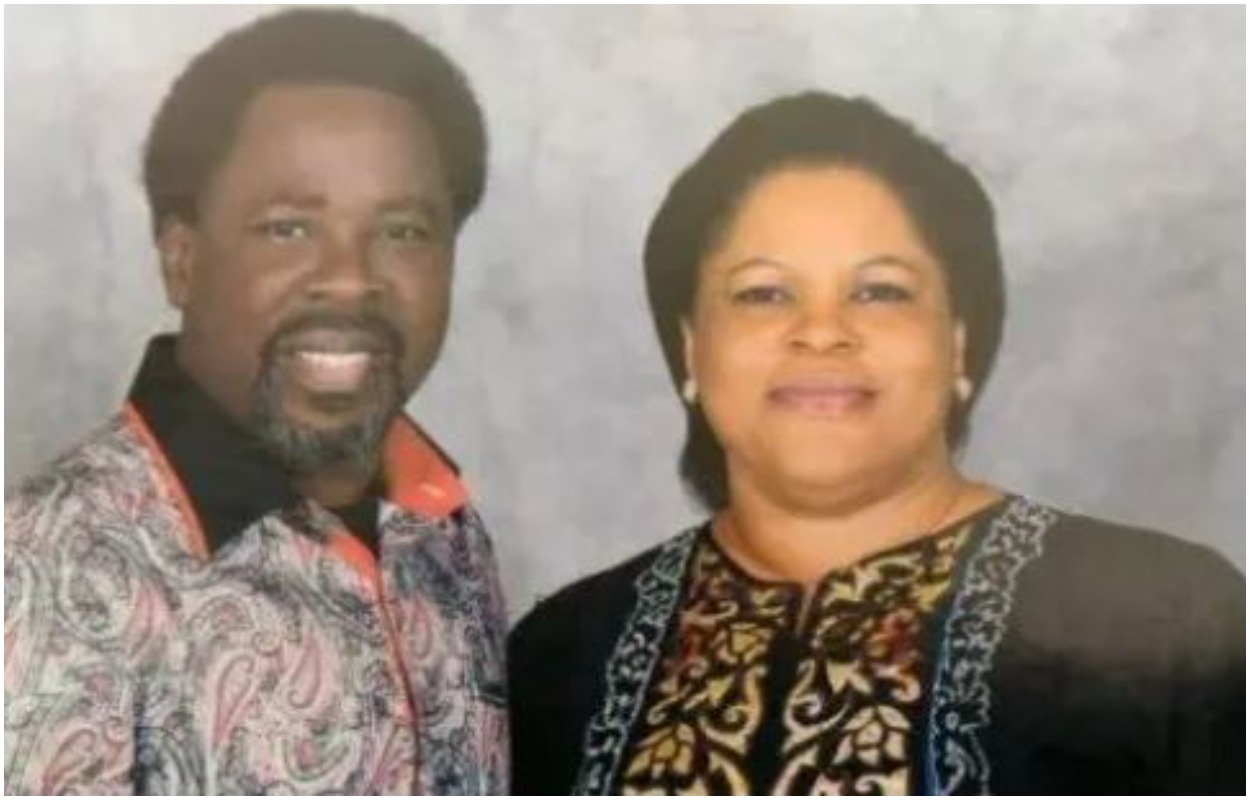 The wife of the founder of Synagogue Church of All Nations, T B Joshua, Evelyn, said her late husband proposed to her on the 1st day they met.
Evelyn made this known while speaking in an interview with The Sun, where she noted that the late cleric proposed to her on the 1st day they met.
Read excerpts from the interview below:
My first visit to TB's house
"It was around 1989. I visited a sister somewhere at Ikotun Egbe Lagos, where the headquarters of the Synagogue Church of All Nations is located at present. And, they were talking about a particular man, a prophet to be precise. It was a kind of a meeting. And, it's like everybody in that gathering, or at least half of the people in the room, had actually visited him. So, they were saying a lot of good things about him. This one said he prayed for him and things became okay from there. Another said her life was a bend but straightened up when she met him. You know, things like that. I was thrilled. At the end of the whole thing, I called the sister outside and asked whether she could take me to the prophet. I didn't ask to go there out of curiosity. I actually needed a guide at that point in time.
"I wasn't at any crossroads, but I desperately needed a guide. I had seen pastors. I worshipped in a church and I had read about prophets in the Bible, though I had not come across any. But at that particular time, I needed a guide, sort of and he fitted the bill snugly. Then I used to worship with the Assemblies of God Church. But back to my story, the sister and I scheduled a date. We got to his place but he was not around. Not to the Synagogue, but his house down in Ikotun Egbe, at Agodo. Unfortunately, we did not meet him at home. But looking back now, I thank God that we didn't meet him that day because that would have been the end of the story. It would have been because of what he told me the very first day that I set eyes on him. If the sister were there, I would have believed that maybe she had gone behind me to tell him all about me. And, that would have ruined it.
Second visit and TB's strange, shocking proposal
"Some months later, I eventually met him when I visited him. That was in 1990. I could remember that day was a public holiday. I remember also that I nearly lost my way because I had never been to the place before except that day I went with the sister. But this time around I went alone. But before I was able to locate the place, it was a bit difficult. When I got into the waiting room, I met two men waiting to see him. Before this time, the idea that I had about the Prophet was that of an old man with white, long beards, and things like that. So, on that day, I was reading a novel that I came with, I don't remember the title now, when I suddenly saw someone come into the sitting room, pick one or two things and went back. But the shadow of whatever I saw was not that of an old man.
"I didn't greet him. I didn't even look at his face. But when he left, I overheard one of the two men telling the other one, 'that's him; that's him.' I looked up but he was gone. They went into the consulting room before I did. Finally, it came to my turn, and I went in there. We sat opposite each other. And, he was gazing at me. He did that for about a minute and some seconds. I gazed at him, too. Transfixed as I was, I noticed that there was a piece of paper before him. Still looking at me, he wrote on it a Yoruba word "Ejide" (translated, it means twin has come). Lest I forget, I'm a twin.
"For about a minute or so, we sat looking at each other until he wrote my name on that piece of paper. And, then we started talking. He told me a lot of things about myself, the ones I know and the ones I didn't know. I was shocked. He told me about my family, about my past, my present, and my future. After your secondary school education at that time, you could get a job in a factory or whatever, hoping to be staffed one day. So, after my secondary school education, life was like, today you are in business, tomorrow, you are in a printing press, and so on. I think the last place I worked before I met him was at Nigerian Distilleries in Ota, Ogun State. I was born into a family of seven. We are the fifth in the family, my twin brother and I. But he is late. I was born to the late Mr. and Mrs. Nicholas Akabude in the quiet town of Okala Okpuno in Oshimili North Local Government of Delta State.
"I started my primary education at St. Emecheta Primary School, Ezi Town, also in Delta State. Years later, I came to Lagos. That was in 1977 and completed my primary education at Orile Primary School, Oshodi, and, my secondary school at Grammar School, Oshodi. He told me all that. Altogether, we spent about 45 minutes. At the end of the whole thing, he spoke to me in Yoruba and said: "Joo ma binu o. Ma ro pe bi mo se nba gbogbo eniyan ti o ba wa s'odo mi soro ni eleyi o. Mi o ni ale, mi o dee fee ni ale. Sugbon, se oo fe mi? (Please, don't be annoyed. Don't think that this is how I talk to everyone that comes to me. I don't have a concubine, and I don't want to have a concubine. But can you marry me?).
"It was strange, but that gives us an insight into what the Scripture says that the Spirit testifies with our spirit that we are God's children, as written in Romans 8:16. When I woke up that morning, I never knew. But something in me said: 'Go to the Prophet.' And, when he proposed to me, it was strange. I don't think I have said yes up till now (laughter) but then, my heart agreed with it instantly. I think that was it. That was how I met him.
His qualities that won my heart
"Some months later, I asked him why he thought it was right seeing a lady for the first time and going on to propose to her. He said he has seen me four days before that very day. Honestly, I wouldn't know whether it was through dream or revelation. But at that time a lot of things were going on in my mind concerning him. In the first place, I was expecting to see an elderly man. But I was shocked to see a dashing handsome young man. Like I told you, he wrote my name on the piece of paper before him. That was the first thing that really shocked me. And, the fact that he proposed to me the first time that we met without waiting to know some things about me.
"Interestingly, like him then, I didn't have friends. As I told you, it was a sister that I visited who took me there in the first place. So, there is no how anybody could have gone to tell him about me. And, when I was going there the second time, she wasn't there. I went alone. I have told you how I got to know about him. I told you, too, that I didn't go there out of curiosity. I needed some guidance which I believe I could get from the prophet. That's why I went.
"You know, life is all about challenges. As a young lady, I knew that God was there. I have a Creator and I know He can guide me into the right path. So, I wouldn't say business or marriage or whatever drove me to him. I just needed someone to guide me on the right path. I saw an honest and humble man.
I saw a God-fearing man, too. I saw a kind-hearted man, a man of one purpose; a man with a sole aim: to please God at all times, with every other thing being secondary. I think those qualities are what cemented our relationship. I am not sure we courted for long.
The wedding took place the same year, 1990. A few years later, my husband sent me to Ghana and I was able to take some management courses there."
BREAKING: Another Nigerian military aircraft crashes
A Nigerian military aircraft has reportedly gone down.
The location was given as "somewhere in Kaduna State".
A source told GOGISTONLINE that the crashed plane is an Alpha jet.
"The fighter jet left Yola, the Adamawa capital, this morning to go clear bandits", the informant added.
Nigerian Air Force spokesman, Air Commodore Edward Gabwet, could not be reached as at press time.
Mohammad Abdulkadri, Special Assistant to the Defence Minister did not take calls.
The military has recorded a number of crashes in 2021 alone.
In May, an air mishap claimed the lives of serving Army Chief, Lt. Gen. Ibrahim Attahiru and other officers.
On February 21, a Minna-bound military jet crashed, killing all 7 people on board.
On April 2, another Alpha jet crashed in Borno during an operation.
13 Dead As Petrol Tanker Explodes In Kenya
Thirteen people were killed and others seriously burned when a "huge fireball" engulfed a crowd in Kenya as they siphoned fuel from an overturned petrol truck that ignited without warning.
Police said Sunday the death toll could rise, with investigators trying to account for the missing, and charred bones found among the twisted wreckage of the fuel tanker.
The truck collided with another vehicle and turned over late Saturday near Malanga, some 315 kilometers (195 miles) northwest of Nairobi, on the busy highway between Kisumu and the border with Uganda.
Onlookers rushed to the crash site with jerrycans to collect the leaking fuel but shortly after the truck exploded, consuming the crowd in a terrible inferno.
"We were woken up by a very loud blast. When I rushed out, I saw a huge fireball and people were screaming," said nearby resident Jack Odhiambo.
Those on the scene first managed to get away safely with some fuel, said witness Magdalene Adhiambo.
But others went back for a second round, and the crowd grew larger as more and more people arrived hoping to get lucky.
"That's when the fire started," she said.
Wycliffe Otieno said he had just started filling his jerrycan when the slick around him ignited.
"I was able to run to safety… I just don't know how lucky I was, because I have been told the people we were with did not survive," Otieno said from his hospital bed.
Investigators were still combing the charred wreckage and fear the death toll could climb.
"The death toll we have as of now is still 13. These are bodies at the mortuary," Chacha said.
"However, we have people who are unaccounted for. We will require a proper examination to determine if there were people burnt completely at the scene, where bones were found."
Fire crews arrived on the scene two hours later to douse the inferno. The cause of the explosion is not yet known.
Four motorbikes were found smouldering not far from the tanker. Witnesses said motorcycle drivers had rushed to the site with jerrycans and were close to the tanker when it exploded.
"Some were burned with their motorbikes," said Otieno.
Images broadcast by Kenyan media showed the blazing tanker lighting up the night sky and in the morning following, crowds gaping at the disfigured, smouldering wreckage.
Deadly accidents involving fuel trucks negotiating perilous roads are not uncommon in Kenya and the wider East Africa region.
In 2009, more than 100 people were killed when a petrol tanker overturned northwest of Nairobi and an explosion consumed those gathering to collect leaking fuel.
More recently, at least 100 people were killed when a tanker exploded in Tanzania in 2019 while in 2015 more than 200 perished in a similar accident in South Sudan.
Cholera: We recorded 54 deaths, 604 cases – Minister
The minister of state for FCT, Hajiya Ramatu Tijjani Aliyu, has said the six area councils have recorded 604 suspected cases of cholera with 54 deaths.
She said this when she flagged off community sensitization on cholera and other diseases' outbreaks in the territory.
Aliyu, who performed the flag-off ceremony at the palace of Agora of Zuba, His Royal Highness (HRH) Alhaji Mohammed Bello Umar, on Saturday, expressed concern over the increasing number of suspected cases of cholera disease.
She revealed that since May 2021, the FCT has recorded a total of 604 suspected cases of cholera across the six area councils with 54 deaths and 9 positive cases for cholera on the rapid diagnostic tests.
According to her, over 120 communities are involved across the six area councils with AMAC having the highest cases followed by Gwagwalada and Bwari area councils respectively.
She, therefore, called for good personal hygiene as well as proper disposal of sewage and refuse, good hand washing practices and consumption of safe water, which she said is a means of curbing further spread of the disease in the territory.